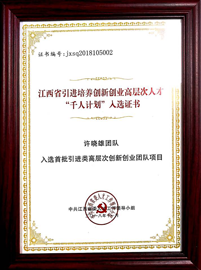 National expert service base, 1043 scientific researchers: 4 national-level talents, including 1 from National Talent Project, 2 from CAS Pioneer Hundred Talent Program, 3 from National-level Innovative Talent Program; 8 provincial-level talents; 145 postgraduate and postdoctoral researchers; 11 senior titles and 28 vice-senior titles.

We have research platforms including National Enterprise Technology Center, the National and Local Joint Engineering Research Center, National Postdoctoral Research Station, Academician Station, Jiangxi Province Lithium Battery New Material Engineering Technology Research Center, Jiangxi Province Industrial Design Center.

Ganfeng has formulated the "strategic plan for talent development", established a long-term incentive mechanism for talents, and fully stimulated the innovation ability of talents. We has been rated as "Jiangxi Talent demonstration site", "Jiangxi lithium battery new material advantageous scientific and technological innovation team" and "Jiangxi graduate education innovation base".